FREE for the next three days. Get my fist m/m paranormal short story FREE from Smashwords now until March 16th. After that it will be $0.99.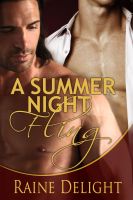 A Summer Night Fling
was formally in the Hot Summer Fun anthology
Erotic Paranormal m/m Short Story
Available FREE at Smashwords
Cal Larson wasn't expecting to find a hot sexy man stuck in a tree as he took his morning walk in the woods. When he meets Alex, sparks fly and these two find that love is waiting to claim them. Except Alex has a secret…one that may bring danger to Cal's doorstep. Can Cal find it in his heart to accept Alex and let this summer fling turn into something much more?
Teaser Excerpt:
Cal Larson walked into his house and knew something was different. The feeling of peace, of home, escaped him that moment. He tried to figure out what it was as he tossed his coat over the stair railing and asked, "Hey, Mal, you around?"
Silence answered him. He walked across the foyer to the living room, searching for his lover of five years. After spying no one in the room, he moved deeper into the house, his heart starting to pound and an uneasy feeling making his stomach churn. When opening the kitchen door revealed nothing, he made his way back to the stairwell and ran up to the master bedroom. Hoping that Malcolm was in the shower, he walked into the room and stopped short. Drawers were open, clothes scattered, but no Malcolm was in sight.
He ran over to the closet and saw the empty space where his lover's clothes should have been. The suitcases they used on trips were gone, and with a heavy heart he sat down on the bed, anguish running through his soul.
"What the heck happened?" Cal turned to see the destruction of the room he had given him so many wonderful memories. Of Malcolm coming toward him, naked after a shower, smelling fresh and manly, and all he needed to do was touch Cal and he was lost.
Hearing a crinkle of paper, he turned and discovered a piece of crumpled paper stuck in the sheets of the bed. Smoothing it out as best he could, he saw it was from Malcolm.
By now you know I am gone. I can't do this anymore. I have fallen out of love with you and moved on. I am sorry for this but hope you can forgive me eventually.
Blinking with shock, Cal stared at the paper in disbelief. His lover had decided to
leave…without even saying goodbye or offer an explanation at that. He left a 'Dear John' letter and wiped his hands of five years of being a couple. What happened to loving one another and giving each other support as they pursued their dreams?
"Well goddamn me to hell and back, " Cal swore as he stood up and walked out of the room, never glancing back while the letter slowly fell to the ground.
---
Fall in love with Fantasies Unbound...
Fantasies Unbound
Secret Cravings Publishing
Erotic Paranormal Romance
Prince Aryan has searched his world for the one woman that is his destined mate but has just about given up when he is lead to the human world. Even though it is forbidden to fall in love with one, he finds Skye Andrews completely delectable and wonders if she is his chosen love.
Skye Andrews has just about had it with men. After another disastrous date, she turns to her Aunt who gives her a love potion to try. With a magic spell and a mysterious face haunting her waking days; will Skye be able to find the love she is looking for? Can these two make it work or will their differences tear them apart?
Teaser Excerpt:
My god, what is this? He wondered as he tried to clear his head and calm himself. He tried to resist the call of whatever it was that lured him along the sidewalks. Not seeing the soft beauty of the town, as he tried to see where he was being called to. It was as if he was being pushed from behind by a force beyond his magical control. Before he knew it, he was in front of a little house with lattice trim, a climbing rose bush along one side. A cat on the steps of the little porch, lazily watched him, as once again he tried to resist whatever was forcing him here.
"What the hell is going on here? Why am I being led to this place?" He muttered as the force continued to push harder until it propelled him onto the porch, "Oh my god, what in the world just happened?" He whispered in stunned disbelief. "I can't seem to fight and it seems my magic is no use against it. It's definitely stronger than me." Aryan breathed deep and got a handle on his emotions. Finally able to breathe normally, he made sure no one was around and used his magic to make him invisible to human eyes.
Magically appearing in the foyer, he moved quietly and unhampered. If anyone looked right at him, all they would see was nothing but their furniture and belongings. Aryan listened intently to find the cause of the call which had carried him here. He spied a woman walking down the stairs. She was tall, voluptuous and with flame red hair dancing around her head, as she had a halo of flames. Her lips were so full, and inviting a pure lightning bolt of lust raced thru his body. Her violet eyes were framed by lashes so full, it was as if butterfly wings kissed her cheeks each time she closed her eyes. Mentally groaning with desire Aryan wondered what it was besides her physical appearance that had drawn him to her. With a rising passion he could barely keep in check, his gaze took in every aspect of her curvy compact body, Aryan watched Skye stand on the bottom step and nibble her lower lip, showing perfect white teeth. He almost came from the erotic images it invoked of her using those lips on his hardened cock and caressing him to a fever pitch. When he saw the sadness in her eyes, Aryan wondered what could have cause of it. Suddenly this breathtaking woman looked straight at him and before he could react, looked as if she'd seen a ghost.
She looked puzzled. It was as if she could sense he was in her house, which was impossible. According to Fairy lore, no human could sense a Fae unless they were their true mates. Aryan stayed motionless until he heard her whisper, "Who is here?" Stunned that she could sense him, Aryan didn't know what to do. It was unheard of for a human to pick up his presence. He tried to leave but the damn call was an enticing lure making it painful to leave this mesmerizing woman alone. Realizing she was still looking around, so he needed to get out of there fast despite being drawn to this stunning woman who stirred his blood in a way he hadn't felt before.
---
If you enjoyed these teasers, then try one of these books by Raine Delight...