Free for two weeks......fall in love with A Summer Night Fling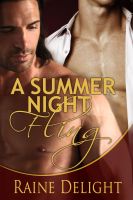 A Summer Night Fling by Raine Delight
Author Raine Delight Books
Paranormal M/M Short Story
Cal Larson wasn't expecting to find a hot sexy man stuck in a tree as he took his morning walk in the woods. When he meets Alex, sparks fly and these two find that love is waiting to claim them. Except Alex has a secret…one that may bring danger to Cal's doorstep. Can Cal find it in his heart to accept Alex and let this summer fling turn into something much more?
This will be free from May 14th to May 27th. Wide variety of formats and once this special is done, it will go back to $0.99.
---
Don't forget to check out On Valentine's Day Anthology which has Raine's second M/M Story, Moonlight Masquerade.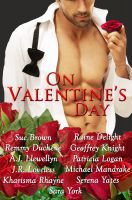 'Moonlight Masquerade' by Raine Delight
Contemporary M/M Short Story
Available in E-book & Print
Mysterious roses keep popping up on Skylar Everclear's doorstep. A little disturbed by this secret admirer, he tries to forget it all. But when he meets his new neighbor, Marc Douglas, he finds himself drawn to the quiet young man. On Valentine's Day, a mysterious rose again pops up with a note to meet his admirer that night. Will Skylar take a chance that this time, love is right there waiting for him?
Shivering as he hurried to his car, Skylar fumbled with his keys before unlocking the door and sliding into the seat. Turning the heat up on high, he waited a bit before putting his car in drive to go home. All he wanted to do was grab a shower, order a pizza and veg in front of the television. He was so exhausted it wasn't funny. Watching couples come into the bakery or men buying items for their partners/girlfriends was a downer to be sure. He never liked Valentine's Day to begin with. He felt it was a holiday that Hallmark cards liked so they could guilt people into buying cheesy cards and florist could raise the prices of roses so high it was mind boggling. He never had a nice Valentine's Day where a lover surprised him with dinner or gave him something romantic or funny or sweet. He was always alone on Valentine's day and he tried to make sure he didn't have to deal with people who were so sugary sweet they made his teeth ache. Finally feeling the car heat up, he drove off determined to not think of hearts, flowers and all the things associated to Valentine's Day. It was for couples, people in love and not for him.
Other stories in the Anthology are:
Louis Hated Valentine's Day by Sue Brown
Impromptu Valentine's by Remmy Duchene
Be My Valentine, Bobby Bryson by Geoffrey Knight
Champagne Kisses by JR Loveless
Love Letters by Patricia Logan
Captain of His Heart by Michael Mandrake
The Hearts Have Wounds by Kharisma Rhayne
Cat vs Dog 2 by A.J. Llewellyn and Serena Yates
Sweet Happenings by Sara York